Our Extensive Heat-Treating Services & Capabilities
At Jones Metal Products, our heat-treating capabilities cover a broad range of product sizes, shapes and specifications, and our experts can address your needs. Through our heat-treating services, we can harden, soften, or relieve stress on your metal parts while maintaining its shape and integrity.
We offer a wide variety of aluminum heat treating processes to satisfy your needs and fulfill diverse customer requests. These include: aging, air quenching, glycol quenching, hot and cold-water quenching, annealing, hardening, solution treating, and stress relieving. We are also capable of heat treating a variety of aluminum forms. These include: wrought aluminum sheets, plates, investment castings and various forgings.
How We Heat Treat
Curious about our aluminum heat treating process? Here's a peek of how a part like yours might be treated at Jones Metal Products.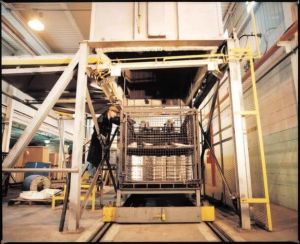 First, we prepare a basket of aluminum parts for heat treatment. Rest assured for clients who have larger part dimensions, the basket can handle larger sizes, measuring 44 inches by 44 inches by 92 inches deep.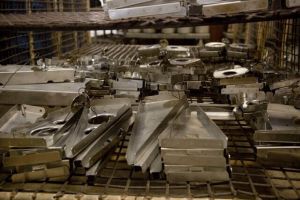 After the basket has been loaded, it is then raised into a furnace and then lowered into a quenching tank. The quenching tank quickly cools the parts to solidify the shape.
Based on your specific part and needs, times and temperatures in the furnace, quench tank, and aging oven will change. The process is adjusted according to specifications for each order.
Nadcap Certified and Industry Trusted
At Jones Metal Products, our aluminum heat treating department is Nadcap certified and approved. Our goal is to provide precise and timely results according to our clients' exact specifications. . Not only do we strive to provide quality service, our accreditations and in-house capabilities have allowed us to become a leader in Nadcap heat treating services for manufacturing companies across Ohio.
Interested in Heat Treating at Jones Metal Products?
Interested in working with us? We would be glad to see how our capabilities could facilitate your next project. Give us a call today at (888) 868-6535 or send us a drawing.