How Do I Form This Part?
How Do I Form this Part

Apr 27, 2017

n our first post about forming parts, we looked at an aluminum frame section from the aerospace industry. Now, we'll examine another part that is often formed by Jones Metal Products – a medical tray for sterile instruments, which has many complex elements as part of its design.

Let's begin by reviewing the metal forming checklist from the previous post. This helps decide which process is the best option for your product.
Order size

For a large order of simple parts, you may consider metal stamping.
If your order includes more complex parts, fluid cell forming or hydroforming may be better options.

Product finish

If your product is not visible in its final application or if a polished finish is not a necessity, then stamping may be the right method.
If your product needs to have minimal scuffs and scratches, a fluid based forming process will yield better results.

Material

Some of the most frequently formed metals at Jones Metal Products are aluminum alloys, titanium, and stainless steel.
At JMP, we work with many types of metals and will find forming solutions to fit your product needs.

Secondary Processes

We perform nearly all of our work in-house. If your product needs additional processes, such as, powder coating, we can point you in the right direction.
Hydroformed Sterilization Tray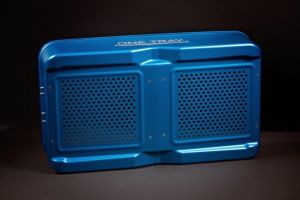 Notice that this medical tray, rather than a simple rectangular box, is actually a rather complex shape. It contains inverted folds, an inverted lip, a smooth finish and small holes. Because of all of these aspects, this part is an ideal candidate for hydroforming with an additional lasering or drilling process to create the holes. This sterilization tray is made from aluminum, but Jones Metal Products can laser up to half-inch mild steel with our in-house machines. At JMP, our master forming associates and engineers are experts in the hydroforming process. We will use your CAD drawing to analyze your design for sensitive areas to prevent wrinkles, tears and thin-outs during the hydroforming process.
For more information about our metal forming services, or to talk about your product needs with one of our experts, contact us or call 888-868-6535.