At Jones Metal Products, our hydroforming capabilities cover a broad range of product sizes, shapes and specifications. To illustrate the types of small parts we form, here are five examples of hydroformed parts made at our manufacturing facility in West Lafayette, Ohio.
Hydroformed Small Parts and Sizes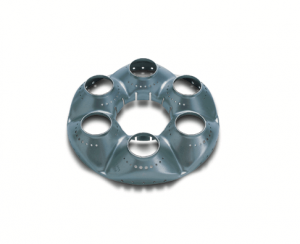 Some parts, like this Hastelloy® X part to the right, require additional hydroforming operations to reach its finalized form. Because of its intricate shape and the holes required, this part also underwent laser trimming and heat treating. Once finished, this part is approximately 10 inches in diameter x 2 inches in overall height.